FEATURED
Kitchen Trends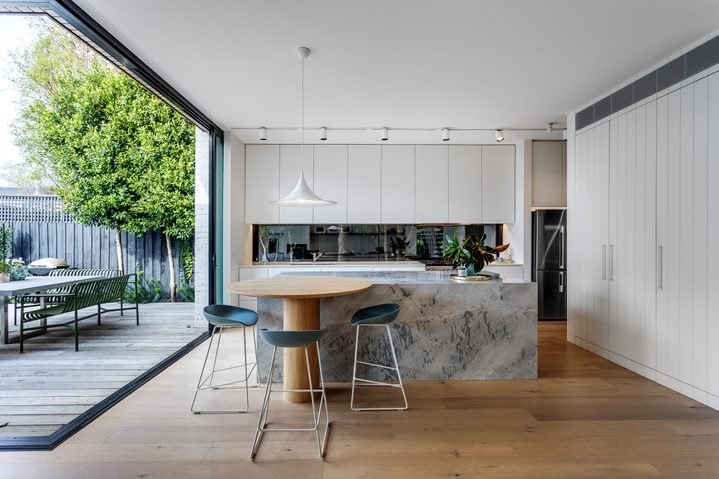 The kitchen is the epicentre of the home and perhaps more so than any other room in the house, a kitchen responds to changing tastes and trends. In the early 1920s into 1940s, the kitchen was compact and separated from the rest of the house behind closed doors. Then, in the 1940s, the kitchen began to open up and it wasn't unusual to see a banquette or a small dining table within the kitchen room, ideal for casual family meals.
By the mid-50s, the kitchen had become a stylish living space, whereby the many functions of a family home – kitchen, living and dining were all housed in the one space. This open plan style of living continued to evolve and remains to be what many homebuyers seek today. Since the early 2000s, some of the more noticeable trends have included farmhouse sinks, brass hardware and neutral tones, as well as hidden appliances and low-profile gadgets. Wit h an eye on details, textures, tone and palettes discover an edit of our current favourite kitchen trends.
Bravery in colour
Whilst the previous decade was all aboutthe muted, neutral kitchen palette. We're excited to be seeing more adventurous colours in kitchen – from earthy tones to brilliant bold hues, we're certainly getting braver with colour in the home and that starts in the kitchen. Green is certainly the colour of the moment in 2022. As a colour, green is associated with nature, positivity and creating moments of calm. It is no wonder that after the chaos of the last 2 years, we're turning to green in all its forms to liven up the heart of the home. For a subtle take on the trend, opt for vibrant accents like copper or gold handles for optimistic bursts of colour.
Statement sinks
As a balance against some of the highly stylized and sleek kitchens we've seen in previous years, people are placing more attention on their kitchen sinks, opting for statement farmhouse sinks that create a feature in the kitchen. Vintage and vintage-style sinks are highly covetable.
Rounded shapes
Rounded shapes exude luxury and sophistication thanks to their more natural form. Rounded shapes are particularly popular in kitchen islands – particularly for breakfast bars – as the curved seating area is more sociable. Contrasting materials such as the marble and wood seen on the breakfast bar in this Malvern East property create a level of intrigue and helps to soften the look.
Steeped in history
Driven by a sense of nostalgia and comfort is the recurring interiors trend of a culmination of old and new. People are seeking to create spaces with intrigue and charm, and one of the most effective ways to do this is by blending older, characterful pieces into new kitchen designs. The obvious choice for a traditional look is incorporating farmhouse style furniture such as a scrubbed kitchen table or dresser. Another way to subtly nod to this trend is by featuring treasured personal possessions such as art, glassware and object in your kitchen. Timeless, built to last and often inexpensive to find at antique shops or vintage fairs, these types of pieces will add character to any space.
Home bars
Most likely as a wash-up from the pandemic times, we're all entertaining more at home than ever before. Our homes have evolved from being our sanctuary to our main social and entertaining hub. The modern kitchen, therefore, needs to accommodate this. It is no wonder that built-in bars – both big and small – are fast becoming a must-have feature in the kitchen.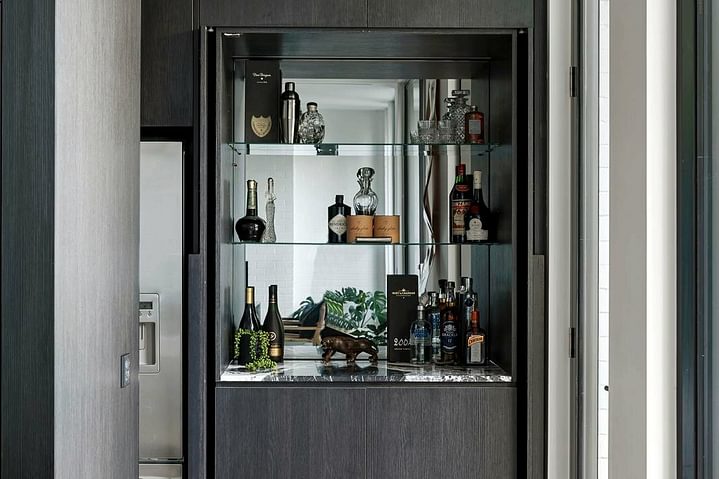 The kitchen space can be one of the biggest deciding factors for potential buyers, so it is important you get the renovation right, if you plan on moving on.
To keep up to date on the latest property news, and hear about property in your area, sign up here.