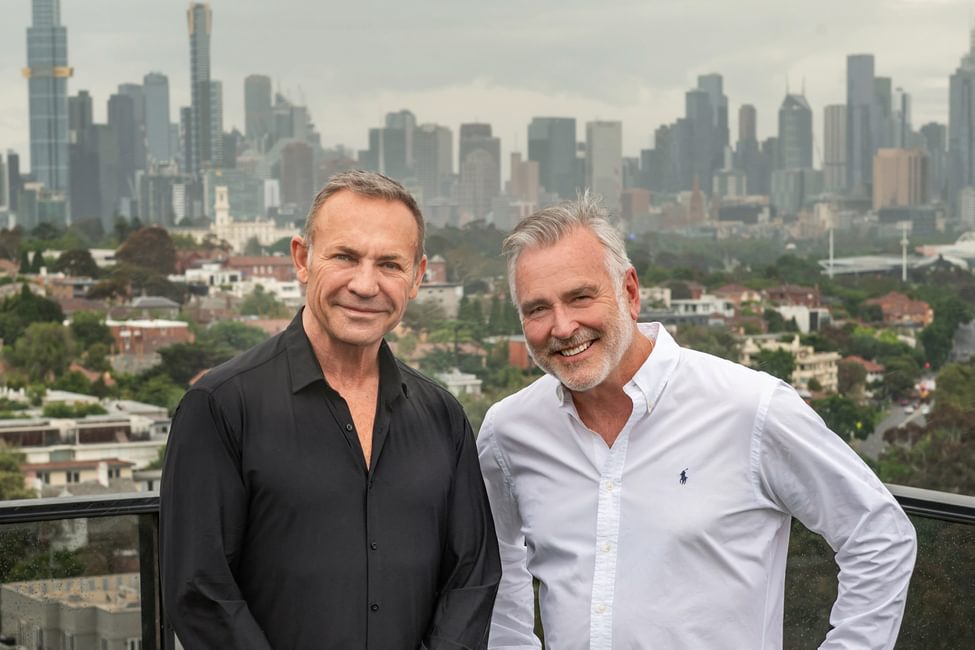 In September 1991, Alastair approached Richard with the idea that they start a real estate business together. Fast forward 30 years and Jellis Craig has grown from one office in Hawthorn to 28 strategically located offices across Melbourne and regional Victoria. The two sat down to discuss some of the more challenging periods of the business, the biggest changes to the industry in the last 30 years and how they spend their down time.
How did you each come into real estate? Was it always a career path you knew you would take?
AC: My father was always quite strict with me and wanted me to understand the value of hard work, so I was often working during the school holidays which is where I fell into building and labouring. I recall trying to listen in when agents were showing potential buyers through the homes that I was working on at the time, and I remember thinking to myself that I could do better. I have always enjoyed working with people and I was fortunate to have grown up in a beautiful Victorian home in Russell Street, Camberwell which, combined with my time working in building and renovating, contributed to my understanding of architecture. I was also never shy in sharing my opinion of ways to improve or add value to a property. In 1980, a job was advertised in the paper for a Property Management role within a small Hawthorn based agency, I persisted until I was appointed and I never looked back.
RJ: Well, you can tell that Al has always been a better strategist than me! I never aspired to get into real estate. After finishing school, I did an economics degree part time whilst working at BP Australia. As I had married quite young, I knew I needed to supplement my income with another job. It so happened there was a boom happening in real estate at the time (1973/74) so whilst I'd intended to do real estate sales on the weekends and my regular role at BP during the week, I fast realised this wasn't going to work. After a few years learning the ropes at a property development firm in Prahran, in 1975, I moved to Woodards in Camberwell where my career really took off.
Who approached who when it came to the idea of starting a business together in 1991. How did that first conversation go?
RJ: We met for the first time at some point in the '80s when I was working at Woodards and we were wanting to recruit Al for a senior position at our Camberwell and Hawthorn offices. Unfortunately that wasn't meant to be. He took another position with a competitor agency, and I was disappointed because I knew what an outstanding salesperson he was. Our contact in the ensuing years was fleeting but I admired him from afar. We didn't really have much to do with each other until 1991, which is when Al approached me with the idea of starting our own agency.
AC: We met at the Royal South Yarra Tennis Club and discussed the idea of forming a real estate business. Rich had a wonderful reputation and a good presence; he was honest, and I was envious of his auctioneering skills. I knew where I wanted to go but needed the means to get there, whilst Richard had the means but didn't necessarily know which direction he was headed. So, it was a somewhat unconventional start to a new partnership and business but one that has proven successful. After agreeing on a 50/50 partnership, we looked each other in the eye, shook hands, and that was that! In 30 years, our partnership has never been questioned and we probably have had no more than a handful of disagreements during that time.
Do you recall the moment you knew Jellis Craig would be a success?
AC: I remember reading that 70% of small businesses fail in the first five years so I always had in my mind that this was going to be a time that we needed to push through. In saying that, I have a very competitive nature, perhaps bought about from representing Victoria as a national rowing champion, and I always felt that if I was given an opportunity I would fight hard for a strong result. This competitive nature alongside the confidence I had in Richard, as well as the very strong brand that we were building all contributed to me never really doubting the business would be a success. I am so very proud to have been somewhat responsible in creating a magnificent, well-recognised and
reputable estate agency. The fabulous people we have been fortunate enough to meet and attract to the agency has been another blessing.
RJ: I've never thought ahead much more than three months let alone five years but I'm glad one of us was thinking long term! The first time I can remember thinking this business would be a success was just a couple of months after we officially formed. It was April '92 and it was the first time we had written $100,000 in a month. I don't think we were ever in doubt after those celebrations.

Was it always smooth sailing? Tell us about some tougher periods of your time in real estate.
AC: It's incredible to think about this now but when we started the business, the country was actually in the middle of a recession. There were a few months where cashflow was tight and we didn't take any dividends home for at least a few years. It's easy to put some of the more challenging periods to the back of your mind and forget about them but when we first started the business we were very much "the new kids on the block", trying to compete with agencies that had built very solid reputations for many years as well as them having a dominant market share. Potential clients would ask us why they should take a risk in appointing Jellis Craig, given our business was so new. Hearing those sorts of things from clients was a concern, but fortunately, we had great people, good principles and good training and with these strengths, we were able to quickly build
momentum.
RJ: I agree wholeheartedly with Al's points, but I also think these challenges are typical for almost all small businesses when they start out, so I wasn't too concerned at the time. One challenging period that comes to my mind was in the late '90s when a small number of key salespeople decided they were ready for a change of environment and moved on to competitor agencies. This was difficult, because I felt we had formed great relationships and built strong career paths for these people. But at the end of the day, they were only doing what we had done 9 years earlier!
What has been your most memorable sale over the years?
RJ: I'm sorry to say for me there's no one sale that stands out in my mind.
AC: I can recall a couple of memorable sales, and I remember one for you Rich: 27-29 Canterbury Rd. There's also the first house Richard and I ever auctioned at 21 Isabella Grove in Hawthorn. 49 Hawthorn Grove and 896 Barkers Rd were also fantastic homes and sales.
RJ: Well, there you go. He has a better memory than me, probably because he listed and sold them!
The business continues to strategically expand, including the most recent acquisition of the Greg Hocking group, how does each of your ongoing day-today involvement with the business play out now?
RJ: I'm retired now and haven't been selling real estate for a few years however I still get involved with anything Nick or the business needs from me. I've given myself the honorary title of "Director of Trips & Conferences" and I look forward to these starting up again once the pandemic is behind us.
AC: I am flattered to still receive calls from various Directors and sales staff from across the Jellis Craig network when they feel they need some assistance with listing or selling a home. I'm also enjoying mentoring some junior members as they come up the ranks. The fact that the Jellis Craig community feel I can still add value is humbling and rewarding and I hope to continue to assist where I am able to into the future.
You've both been in the industry for over 30 years, what do you think has been the biggest change in that time?
RJ: For me, a lot of the change has been to do with Government intervention of the industry – specifically when they deregulated commissions in 1996, when legislation concerning "underquoting" came into effect in 2005, and when more emphasis was placed on compliance. These changes have all been significant.
AC: The speed of communication has been a huge change. Technology is of course a contributing factor to this pace, but technology has also given us more ways to reach potential buyers compared to 30 years ago which is exciting.
You've known each other both personally and professionally for over 30 years? What stood out to you about the other person and what personality traits do you admire in one another?
RJ: One of the reasons I think our partnership has been a success is because we are very different. I know I can sometimes be too intense – I certainly have a strong personality! Some of the qualities that Al exhibits mesh in and work well with some of my traits and I think this has contributed to our long-lasting partnership. I admire his considerate manner, his ability to listen and be flexible and the fact he thinks long-term.
AC: I always respected Richard as an estate agent from afar and it so happens that the characteristics that stood out to me about Richard when I first approached him with the idea of starting a business continue to be the qualities I admire now. Richard has always been a person you could trust. He has high standards, is innovative, and he commands respect by never holding back his thoughts. We played two different roles in the business – Richard took more of a management function, whilst I always enjoyed working in the trenches alongside our sales team listing, selling and negotiating on a day-to-day basis.
What makes you tick when you're not selling property?
AC: With pretty much everything I do I push myself to the limit. I'm a bit of an adrenalin junkie and am passionate about extreme activities including heli-skiing and boarding, track days either on a motorcycle or driving fast cars, as well as being a very keen surfer. I receive good energy not only from participating in these sports, but also by helping our staff to list and sell property, whilst simultaneously helping our clients fulfil their property dreams.
RJ: I still very much enjoy the concept of buying and selling and at the moment that is manifesting itself in trading classic cars. Travel and being in the company of friends and family, including seven grandchildren, is very important to me.