FEATURED
In Residence with Charles Atkins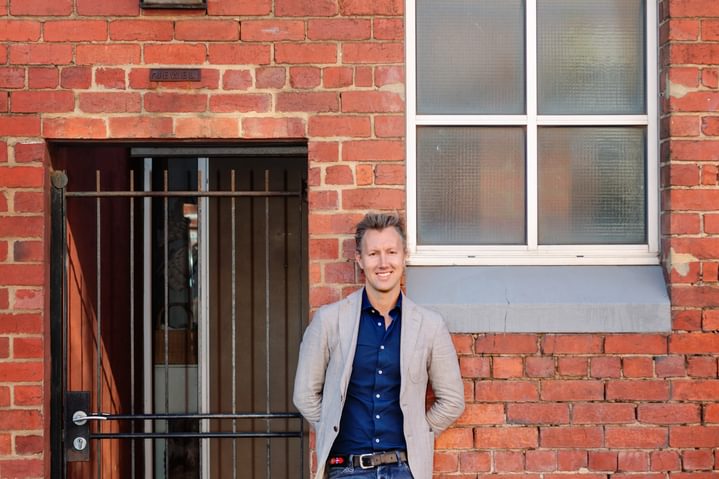 Charles Atkins, Partner & Auctioneer at Jellis Craig Fitzroy, has been in sales for most of his life. Before he started selling homes in Melbourne's Inner North, Charlie was a sales rep in the FMCG industry whilst he finished his studies. After the year that was in 2020, Charlie and his young family were one of the many Melburnians that decided to make the move to regional Victoria. He now enjoys the best of both worlds – splitting his time between metro-Melbourne and the Mornington Peninsula.
What were you like as a child?
I grew up in Albury, NSW with my family. I have two siblings, one being my twin sister, so I always had someone to hang out with. As a child I was always active and always outdoors. I immersed myself into all sports, from swimming, running, football, to water polo and skiing. I was always up for a challenge and somewhat competitive when it came to sport. I was also known for my love of dancing and dress ups! My parents loved to host social gatherings at our home and I was the entertainment!

Do you remember the first property you ever sold? Tell us about that experience.
I don't think you ever forget the first property you sell - it was a super groovy 1-bedroom flat in King William Street, Fitzroy, owned by Mariana Hardwick. I remember thinking, this lady was influential in her own industry and I really wanted to match that and provide her with a great selling experience.

Tell us about your journey into Real Estate?
It is hard to believe it has been 13 years from the day I first walked into the Carlton office. My interest for property started at a young age. I think that stems from my parents constantly buying and renovating property in and around Albury. After finishing school, I was studying business at RMIT and working in sales at an FMCG business as a side hustle! I quickly realised my love affair with sales and interacting with people. Being out and amongst the community is something I really enjoyed. After researching how I could combine these passions into a career, I reached out to a family friend in the industry and he kindly created an opportunity for me to meet Mike Amarant, an agent in the Carlton area. I worked with Mike in his team for a number of years and continue to work alongside him in the wider team at Jellis Craig Fitzroy. I am grateful for his wisdom and experience which I am lucky to still draw on today.
How have you fared with Melbourne's 4 lockdowns?
There is no doubt that the past 12 months have been a really interesting time, lots of change and adaption in the Real Estate industry and my personal life. We welcomed our second child Poppy in 2020, which introduced a whole new exciting dynamic to our home. Lockdowns were a blessing in disguise as I really appreciated the time I was able to spend at home with our new baby. We also made a snap decision to sell our house and move. This also brought a welcome distraction from the lockdown grind.
It has been a wild 12-months for real estate. Tell us about this period for you professionally.
From a professional perspective I think it has reinforced how important strong communication is in Real Estate. Regular, clear and informed conversations about the changing market has been integral to my client relationships this year. Given we are all living through a world pandemic, it is hard to believe how well the property market has been performing. I would never have predicted that this would be my most successful year in real estate.
What does home mean to you?
Home is family. I am lucky to have the most amazing, supportive wife. Alice, is my partner in crime and keeps the boat afloat. Archie, our son is equal parts adventurous and humorous and is a wonderful, loving brother to Poppy who is proving to be a dare devil in disguise. When I think of 'home', I am spending time with my family.
If you could travel anywhere in the world right now, where would you go?
The Mediterranean will do just fine thanks!

Real Estate can be a 24/7 career. How do you balance it all and what do you like to do outside of work?
Real estate is a wild ride and can be a 24/7 job. Having a young family has forced me to adapt how I manage my time and organise myself so that I can be present for my family and for my clients. Outside of work and family time, I am a keen swimmer and you will most likely find me in the pool or ocean several times a week. I also have a strong interest in old Land Rovers – there's something pretty special about them!
For more information on Charles' including his recently sold properties and contact details, click here.