FEATURED
In Residence: Calvin Huang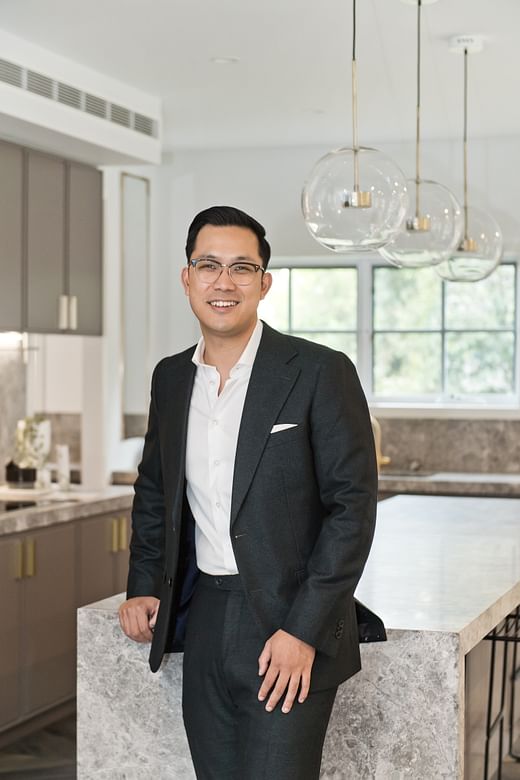 Calvin Huang has a deep knowledge of the Glen Waverley region – the area where he grew up and is now the highest ranked agent. Following his Accounting degree, Calvin quickly realised that he wouldn't be able to sit at a desk all day, so he decided to try his hand at real estate. Now, 10 years after he sold his first home, he can't imagine his life outside of the industry.
What was your childhood like?
I was always outdoors. If I wasn't exploring the backyard, I was riding my bike or playing sports with my friends; soccer, cricket, tennis, footy… you name it!
What was your first job?
After high school I worked as a bartender at Crown whilst studying at university. That was a very interesting experience, where I often didn't finish work until 6 or 7am in the morning! I also worked at a call centre, but that did not last long as it was not nearly as interesting as my bartending job.
Tell us about your journey into real estate. Did you always know you wanted to work in the industry?
My venture into real estate was unexpected. After completing my accounting degree… I knew I didn't want to be an accountant! After my stint at the call centre, I couldn't see myself sitting at a desk all day long. I took a gap year to travel, before deciding to apply to become a real estate agent in the local offices around the area I had grown up – Glen Waverley. I was attracted to the notion that as an agent, every day would be different.
What would you say is the biggest challenge in your work life?
Trying to maintain control of the day is essential. I do this by prioritising my tasks and sometimes saying no to things. I learnt early on that there is just not enough time in the day to do it all so it is all about focusing on the big things and not the small things.
If you were not in real estate, what would you be doing?
I can't imagine life outside of the real estate industry. If I wasn't a real estate agent I would still be working in property, perhaps as a project manager and working on my own projects building houses or townhouses.
Real estate can be a demanding 24/7 career. What do you do to find the balance and how do you switch off?
This is the hardest part of the job, switching off after long day is a skill that I am yet to master. My stress release is going to the gym. If I'm lucky enough to get some extended time off, I try to get out of Melbourne and travel. This really helps me to reset.
Describe your ideal Sunday
My ideal Sunday starts with a bit of a sleep in before heading to the gym, followed by a walk to the coffee shop with my wife and dog. I'd also try to fit in a catch up with some friends, before ending the day with a relaxing night at home to prepare for the week ahead.
To keep up to date on the latest property news, and hear about property in your area, sign up here.