FEATURED
How to create the perfect home office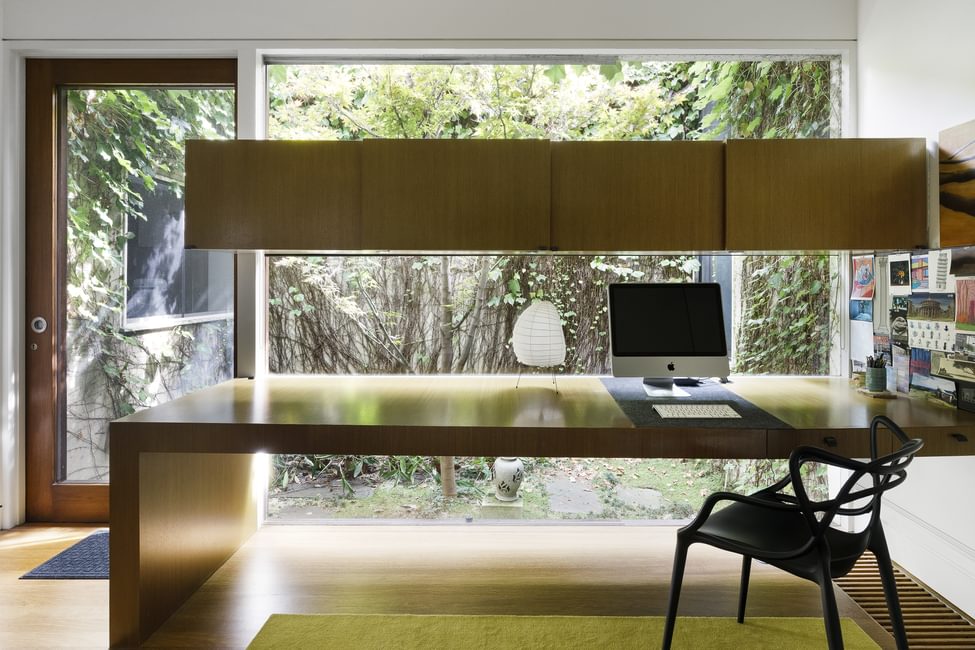 The number of buyers in Victoria searching for a "home office" as part of their next property purchase first spiked in March 2020, as most non-essential workers made the move to work from home overnight. It then rose again in early August, as Victorians and Melburnians in particular, headed into their second lockdown.
Since then, prospective buyers searching for a property with a "home office", has remained relatively steady. The desire for flexible workplaces and the ability to either work part time or full time from home has meant that buyers are increasingly favouring homes with move-in-ready study nooks or home office spaces.
Dr Nicola Powell, chief economist from Domain, researched the data on how our lifestyle changes last year influenced a rapid change in search terms across Victoria.
"Prior to the pandemic, the use of the search term "home office" was infrequent. This search term soared in popularity during the height of the pandemic, with the use of "home office" to tailor a property searching soaring by 605% in the June quarter compared to the March quarter in 2020.
The importance of a dedicated workspace has hit the home wish list."
Agent David Sciola, from Jellis Craig Stonnington, echoes Dr Powell's statistics.
"The study nook, or even better – dedicated home office – has gone from being a 'nice to have' to a 'must have' for many buyers. It is now the minority who don't at least partially work from home and working from the kitchen island or dining table just won't cut it.
It's those small, relatively simple changes – adding a study nook into an unused area under a floating staircase or converting a room that would previously have been styled as a kid's room or formal dining room into a home office – that could be the difference between getting a potential buyer to inspect or not."
Whether you have the space to convert a bedroom into a home office, or you're squeezing a study nook into an enclave in your apartment, the same theories apply. Building your dream workspace is all about creating a warm, calming space that works hard for you.
Leah Hallis from Interior Design company, Create Expectations, has been converting previously unused places around homes into study areas for years, but never more so than in the last 12 months, thanks to the onset of the pandemic. Here, she breaks down the process of creating your perfect home office.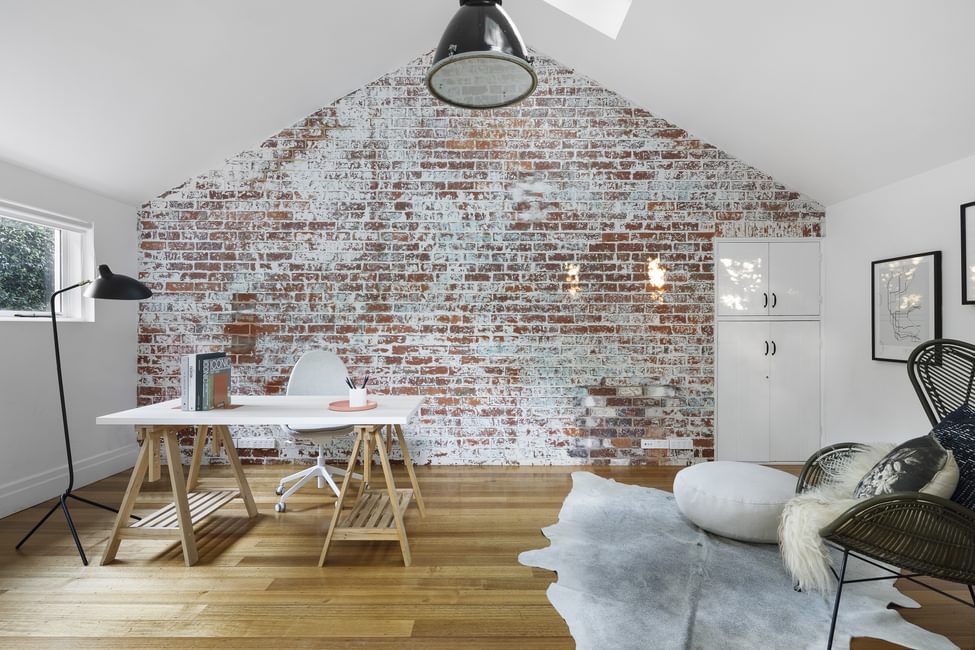 Consider The Space
The surrounding space that you decide to set up your home office in is important. Ensure the area is away from distractions – such as the TV in the living room, or chores in the kitchen. If there is limited room, ensure there is at least a clear delineation between your workspace and your personal space.
Possibly the most important consideration when thinking about your home office space is the natural light coming into the space. Natural light is crucial to keep energy and positivity up, just make sure the natural light is backlit – you want to be able to see your screen as the afternoon sun shines in. If possible, set up your home office space near a window that opens to fresh air.
Consider The Desk
The desk that you end up with is going to be completely dependent on the space you have. If your home office area is more of a nook or enclave, a floating shelf is a real space saver. You can purchase and install a pre-cut panel, plus brackets, before attaching the shelf. If you have more space for a traditional desk, there are plenty of high and low-end options to choose from to suit all manner of spaces. If you're not limited with space, a stand-up desk is a great option to avoid sitting down all day. If you must work from the kitchen or dining room, try to pack down your workspace at the end of each day to separate work from play.
Consider The Function
In considering how you want the space to look, it is important to think about what sort of technology you like to work with. Do you prefer plugging your laptop into a monitor for your second screen? Or do you work better on a desktop? Either way, the best way to keep an office space looking clean and tidy is to remove or clear away any cords. To avoid having to set up anew each day, purchase a desk with a space for cords to travel from the plug up to your computer, or drill a neat hole yourself if you have a floating shelf desk.
You can also try somewhere like Officeworks for an off-the-shelf cable tidy, or a Velcro wrap that can be strapped under your desk.
No workspace is complete without an ergonomic chair and shelving space. Select a chair that is comfortable, the right height, and provides proper back and arm support. Look for resources and information about ergonomic office furniture before you shop, you need something that will last the distance and keep you comfortable and efficient all day long. Monitors should be at eye level to avoid neck and back pain, and a track ball mouse will avoid wrist and arm pain.
Consider The Accessories
If your workspace is clean and harmonious, you will be more productive. If you don't want your space to be overly 'office-y', create a retreat that you feel good about coming into each morning. Add plants or flowers for greenery, if you're short on space hanging greenery can add to your mood without taking up too much room. A monthly planner on your wall, nice notebooks and pens can help you plan ahead and inspire creativity, especially if you're a visual person. A scented candle is the perfect finishing touch to make the space more inviting.
As for shelving and filing, storage boxes help to keep you organised if you're short on space. If not, a vintage armoire or cabinet looks great and keeps everything neat and tidy.