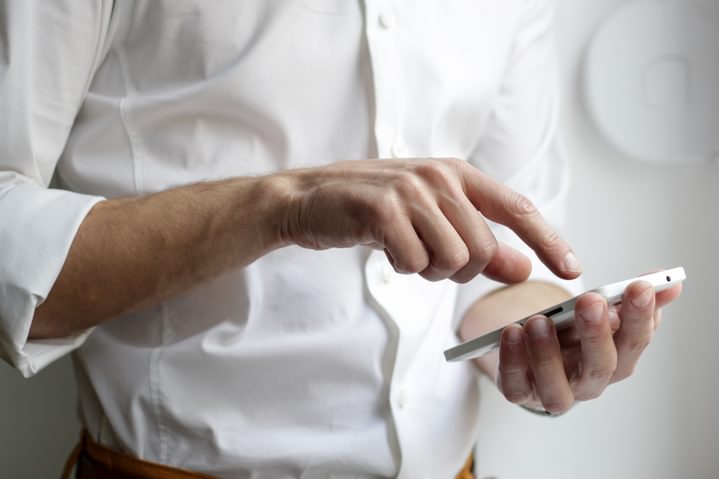 The Coronavirus pandemic has rapidly altered the ways we conduct business and interact as a society, bringing large parts of our lives to a near standstill.
In the face of such upheaval, real estate agents and property managers across the country have had to innovate at a pace never before seen to keep the industry moving forward.
Here are some of the ways we are adapting to the pandemic and continuing to meet the needs of Australian property owners and seekers.
Virtual open-for-inspections and auctions
One of the first major changes to the industry was the government's announcement of a nationwide ban on property auctions and public open-for-inspections, which came into effect on March 26.
While private, one-on-one inspections were still allowed to go ahead, the announcement forced real estate and property management agencies to rethink how they could deliver their services while abiding by government regulations and advice.

In response, many agents began live streaming open-for inspections at their originally scheduled times via online platforms such as Gavl and Facebook and even via FaceTime, allowing interested buyers and renters to view properties from the comfort of their homes.
realestate.com.au also launched a new virtual inspection tool via their app called Digital Inspections, while Domain has made it easy to request a virtual tour on their listings, allowing inspections to take place via video chat technology like Skype, Whatsapp, Zoom and Google Hangouts.
Similarly, with auctions, agents have shifted to phone bidding as well as online platforms like Auction Now, Gavl and Anywhere Auctions. At Jellis Craig, we achieved early success through Auction Now, selling a property for a price above reserve in a competitive auction.
As predicted, take up of these online alternatives was slow to begin with. Out of the 2700 properties that were set to go under the hammer around the country on the first Saturday after the nationwide auction ban, only 10 per cent were facilitated online. About 35 per cent were withdrawn altogether, while 55 per cent were negotiated via a private sale.1
While these initial figures were dispiriting, each new week sees more real estate agencies registering with these online platforms and conducting more of their auctions online. Indeed, many professionals are now realising the virtue of online auctions, with some speculating that they could become the new normal when selling property.
Online property videos and 3D virtual tours

Many agents have further adapted to the ban on inspections by enhancing their online listings with features such as property videos and 3D floor plans.

In Victoria alone, from March 20 to March 30, about 4200 owners added video walk-throughs of their homes to 'for sale' listings on realestate.com.au, with more than 12 per cent of sales listings now hosting videos. Almost 11 per cent of rental homes, equating to about 2800, are also offering video tours.2

Agencies are increasingly embracing innovative technologies to help market their properties – such as Matterport, a 3D imaging platform, which creates to-scale 3D immersive and interactive floor plans of properties. Stitching together images and video, the specialised cameras create the sensation of walking through a space either online through an app, browser or VR headset.

Sophisticated technologies like this, which provide accurate renderings and precise measurements, help property seekers get a more comprehensive feel for the space than what is offered through photos and videos alone.

Digital contracts and authorities of sale

There has been a marked rise in the use of e-contracts in the wake of the pandemic, allowing for property transactions to be facilitated remotely.
These digital documents make it faster and easier for parties to execute the sale and leasing of properties, eliminating paperwork and the need for in-person signatures.
We here at Jellis Craig were ahead of the curve on this trend, having embraced electronic contracts and authorities of sale long before the coronavirus pandemic struck, and so were able to finalise transactions for our clients with minimal disruptions.
Given these e-contracts are used by many businesses outside the property industry, we could start to see a phasing out of traditional contracts to streamline what is often a drawn-out process.
Digital appraisals
Agents are still able to conduct appraisals of properties in person (while practising healthy hygiene and social distancing measures) or remotely using FaceTime, WhatsApp video call or any other form of private, live video.
As part of their findings on individual properties and local markets, agents are factoring in the current climate when providing their suggested price guides, helping to bring clarity, and in some cases, giving confidence to sellers during this uncertain time.
We're all in this together
It's too early to tell how this pandemic has impacted on the property market long-term, nor do we know when some of these restrictions will ease, allowing us to experience an element of normalcy in our daily routines.
What we do know is that agents and property managers across the country are rising to the challenges posed by this unprecedented pandemic and doing all they can to meet the needs of their valued customers.
Jellis Craig is here to support sellers, landlords, buyers and renters during these difficult times. If we can assist you with any of your property needs, or to arrange a private inspection, please do not hesitate to get in touch. To explore more of our coronavirus coverage, click here.

Footnotes: Domain.com.au News, 28 March 2020 https://www.domain.com.au/news/online-auctions-wobble-in-first-weekend-after-coronavirus-ban-on-public-auctions-944864/ realestate.com.au News, 3 April 2020 https://www.realestate.com.au/...