FEATURED
Featured Space: A Weatherboard Transformation in Northcote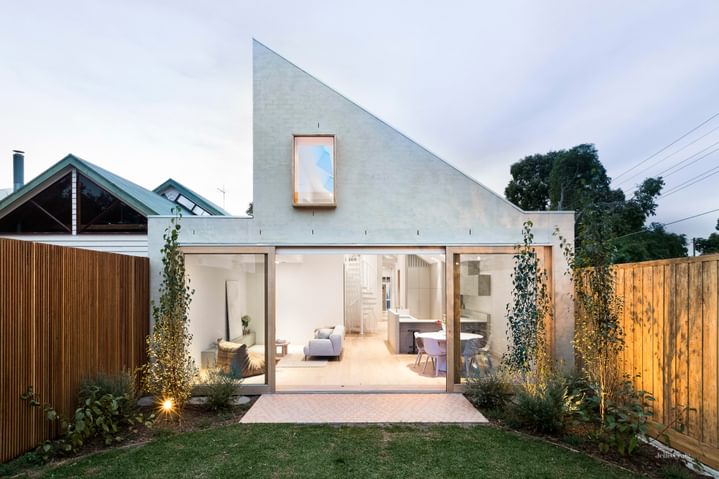 Interiors have always been a passion for interior designer Melissa Vukadin. After renovating a number of homes with her husband, Melissa decided to take the leap and leave a corporate career to dive headfirst into the world of interiors. Her most recent project, transforming a weatherboard in Northcote in need of some love, shows Melissa's talent for creating a cohesive and calm home from front to back.
Tell us about the condition of the home when you bought it?
Johnson St was a post-World War I single fronted weatherboard home that needed some love. We saw potential in the corner block with access to the rear for car accommodation or back yard additions such as a plunge pool.
Which features of the original weatherboard home did you want to retain / highlight?
Aside from the wonderfully high ceilings and the heritage character of the home, the interiors were in need of some serious attention and therefore we had to brainstorm ideas on how to create a visual impact and a living space that was different from a lot of the other single fronted renovated homes in the area.
Tell us about the process of the renovation – where did you start?
It all starts with a vision and an idea. Then you need to start asking yourself questions as you go along: who will live in this home? How will they live? Whilst incorporating what we've learnt over the years about liveability with a growing family, entertaining and of course being able to work comfortably from home.
What was the vision?
The vision was to create a cohesive and calm home from front to back. Tweaking the façade so that it has a strong relationship with the rear is something I love to challenge myself with rather than a conventional addition of the modern box.
What did you actually renovate?
The original weatherboards were restored, though unfortunately the rest was unsalvageable due to stringent building codes. We did aim to retain the existing Baltic Pine boards however things became tricky once old carpets were pulled up. Original Laden plaster walls and ceilings were removed to ensure internal walls were fully insulated, rewired and re-plumbed for energy efficiencies and longevity.
Did you have help along the way?
Our trades have worked on numerous homes with us and really understand the process and our integrity in producing a quality outcome.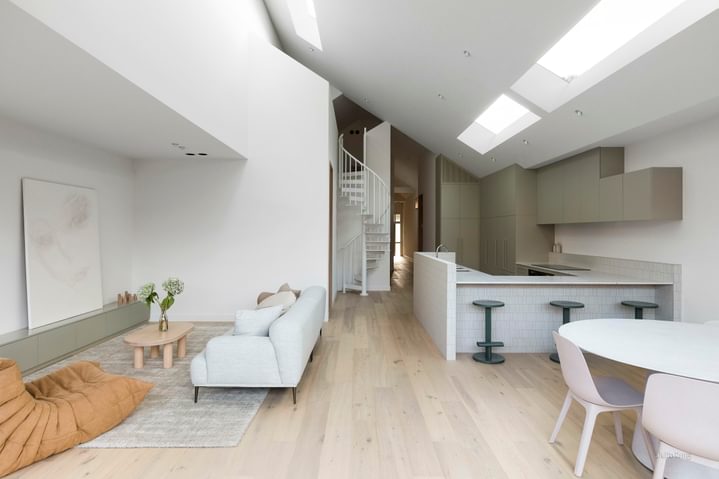 What were some non-negotiables with the renovation?
With all the homes I renovate it comes down to three non-negotiable elements. Space, light and quality must be prioritised above all else.
What was the creative process like?
For me this process is always about gathering information and inspiration then sitting down with the suppliers I trust and brainstorming again and again until we all feel we have landed the perfect vision.
How did the era of the home and the surrounding area inspire the renovation if at all?
The surrounding street scape is beautiful and green. With some wonderful large gums in view of the property the colour palette hinges on this. It's calm and strongly reflects nature and the colours of its surrounds.
Did you have any specific requirements that you needed to consider for the design?
Aside from a spacious kitchen, living and dining zone, we also wanted to add a 4th bedroom, a retreat area and backyard space flexible for children or pets.
What were the challenges and how did you overcome them?
We were challenged for space within a 315sqm block and tested the boundaries of a single story roofline to include additional spaces without compromising on space and light.
Which space in the home is your favourite and why?
Everywhere the raked ceiling hits gives an immense sense of space, light and grandeur. The space underneath the ceiling - the kitchen, dining and family zone evokes immediate awe whenever we have visitors.
To keep up to date on the latest property news, and hear about property in your area, sign up here.