FEATURED
Behind the build: A modernist home in Northcote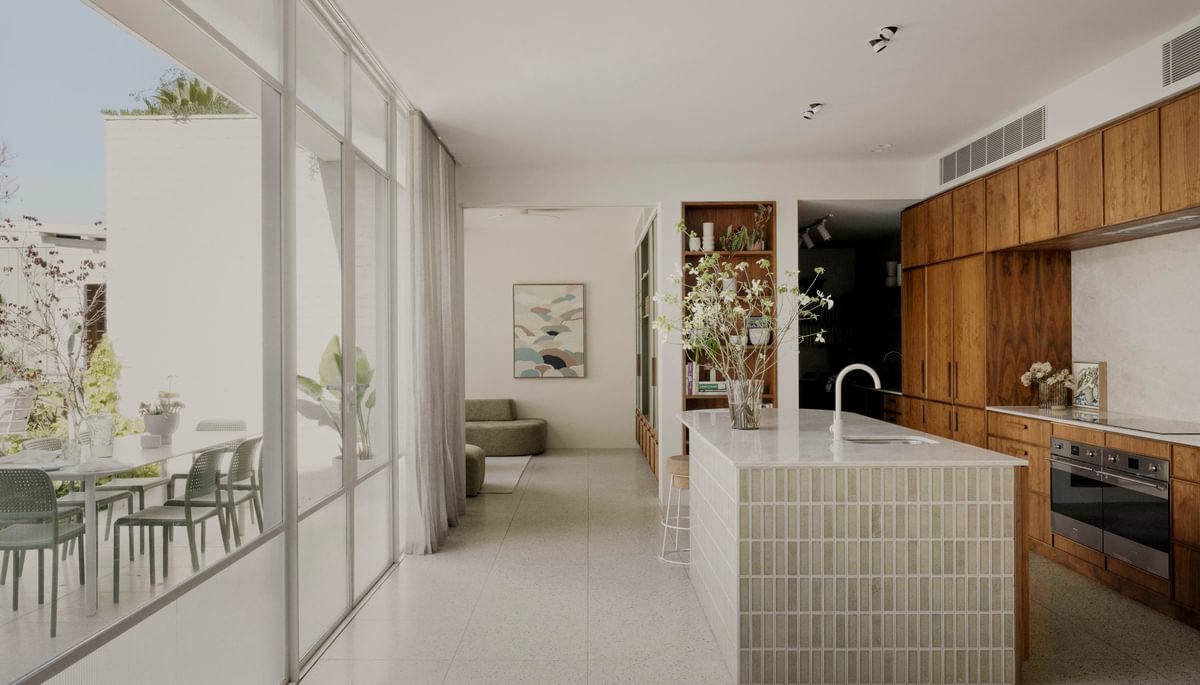 Rebeka Morgan is a registered builder and the founder of BuildHer Collective, a business that helps women along the process of building their dream homes through online courses, webinars, events and mentoring. Rebeka is also a successful residential real estate developer, and along with her husband and co-builder, John, she recently completed building her dream home at 58a James St, Northcote. Here, we go behind the scenes of the build of this gorgeous family home that is currently on the market with Jellis Craig Inner North!
You started with a blank slate. How and where do you go from here when it comes to building such a statement-making home?
We did indeed start with a blank slate, but we also had so many dreams and ideas for this build we really needed to corral all our thoughts and inspiration into a clearer vision. I run BuildHer Collective, which teaches women to design, build and renovate – family homes and for profit, so there is always a bit of pressure to create something unique and beautiful and to push the envelope a little.
We started with a mood board that we were able to provide to our amazing local architect Bellamo & Cat. We had worked with Bellamo & Cat on previous projects, and we knew we wanted to work with them again for James St because we love both their creativity, form and vision. Alongside the mood board, we provided a list of requirements and of course some free reign. And once again they delivered!
Tell us about your design process.
We like a fluid design process, essentially creating as we build. I wouldn't suggest this in a typical build but as designers and builders ourselves, we have a deep and thorough understanding of the process and how things come together, meaning we are able to play with the interiors along the way.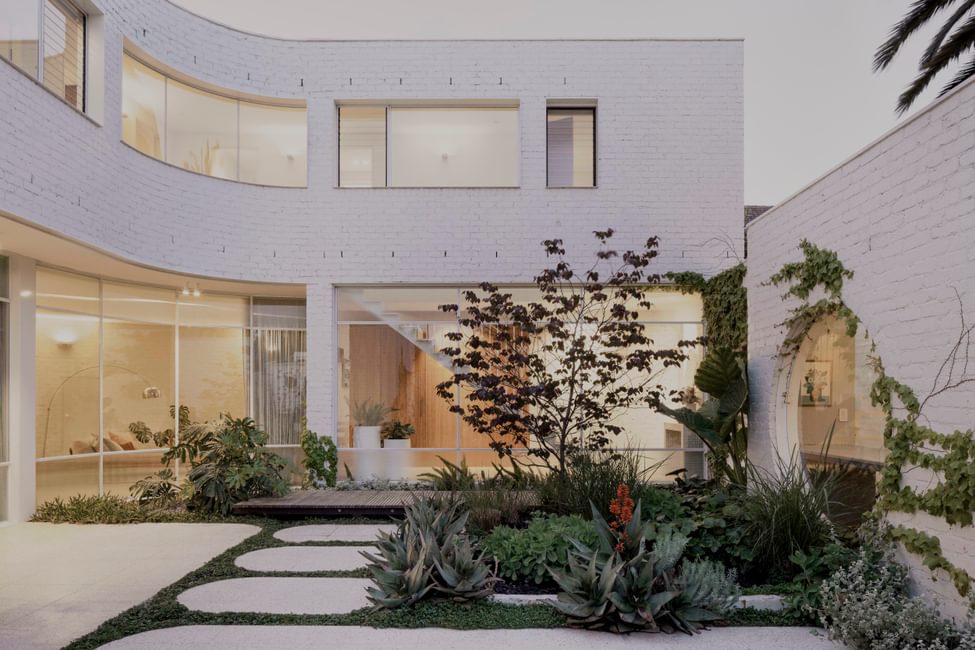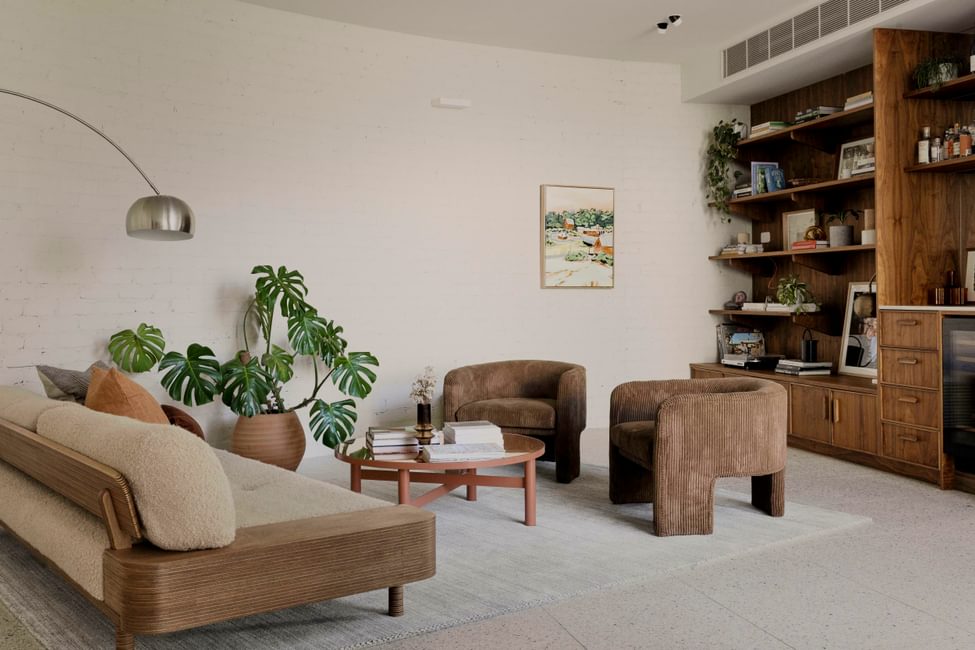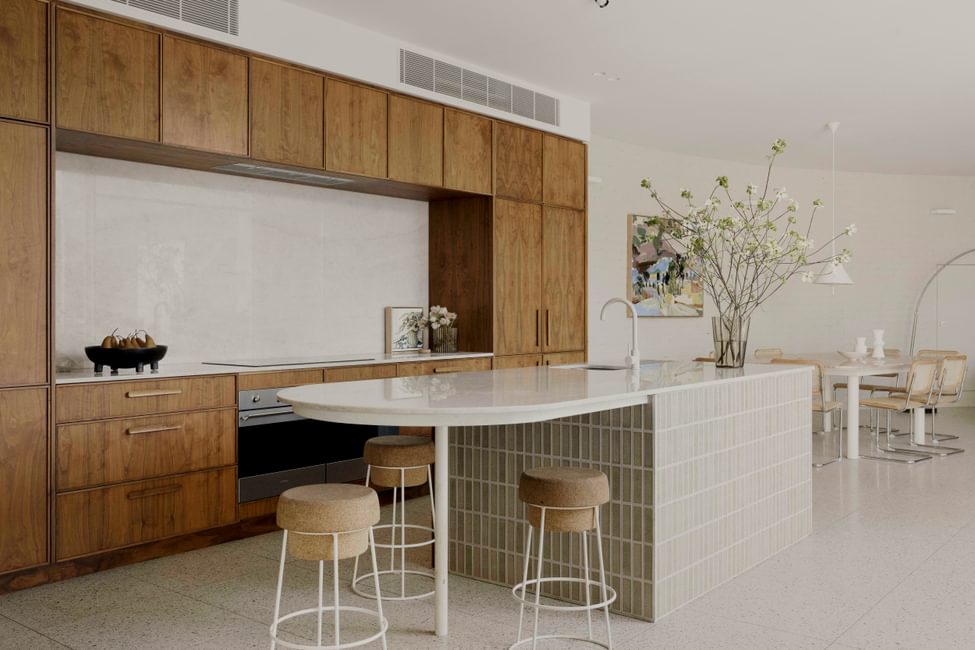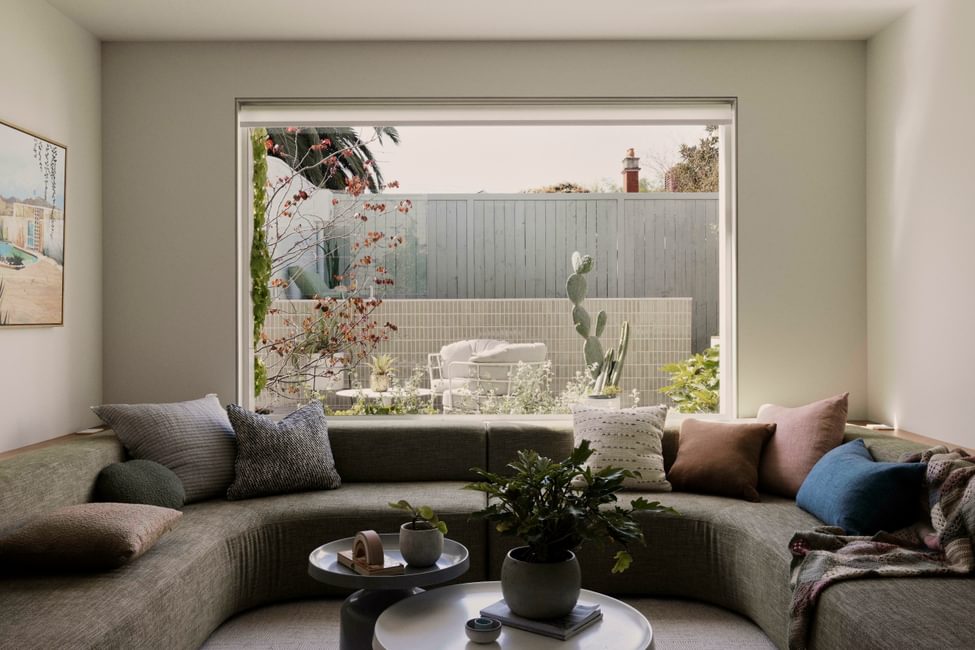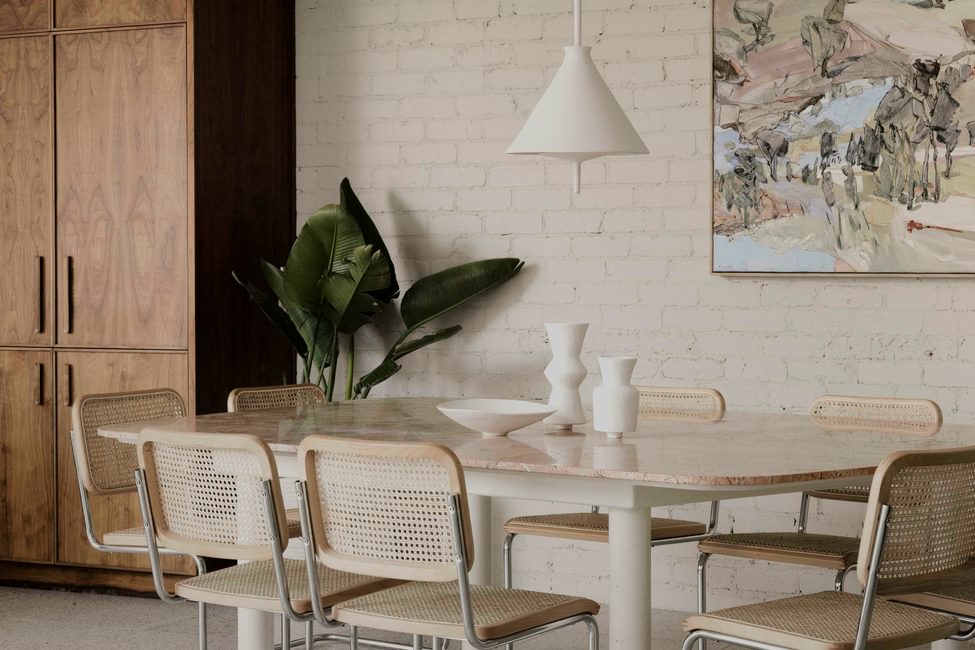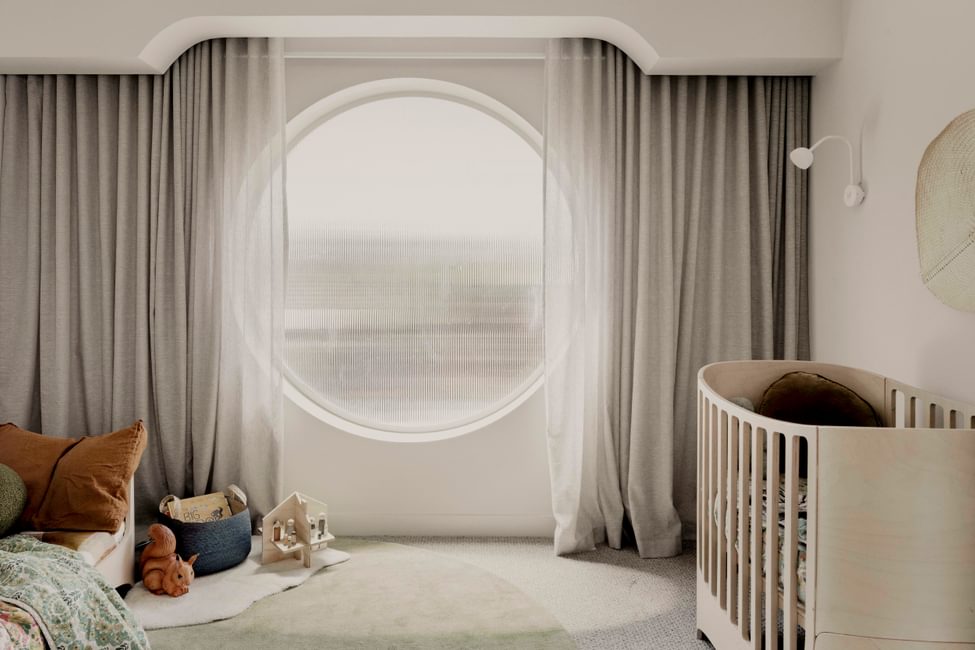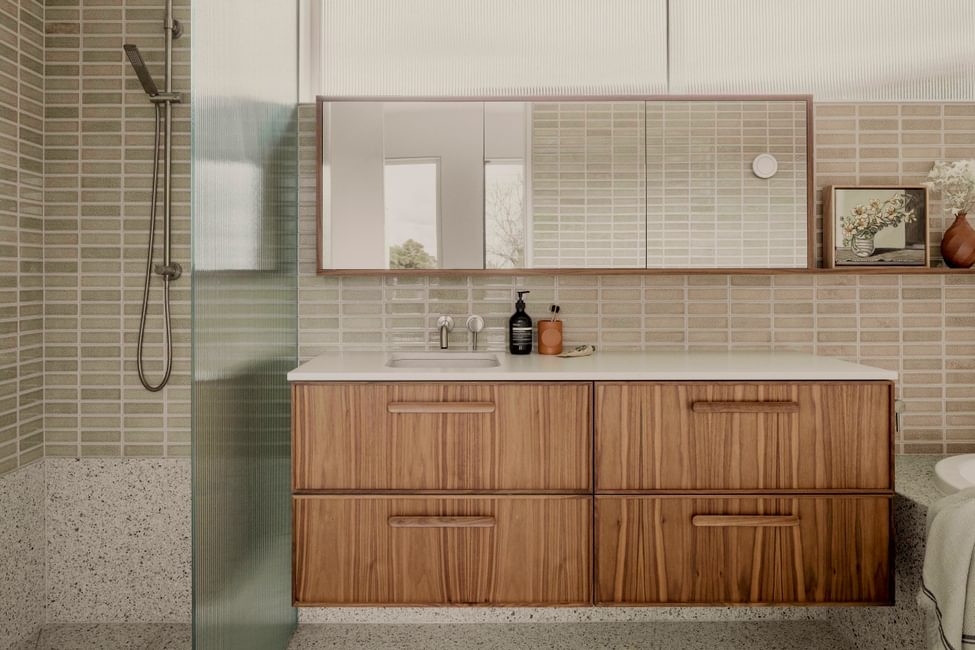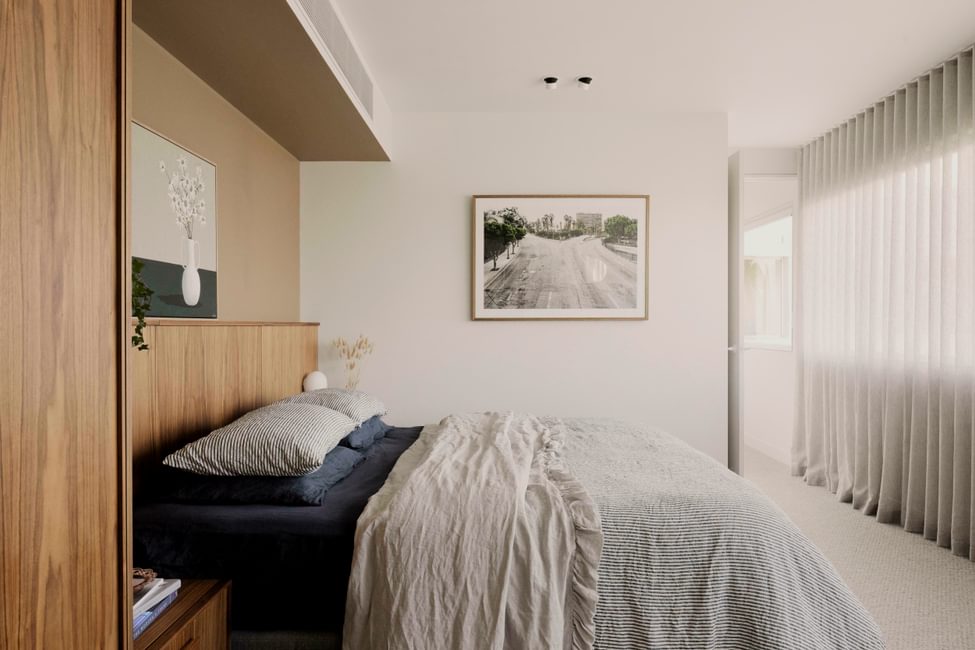 What was the vision?
John and I love to explore different materials and styles, the original idea was to have a courtyard home, with a beautiful form that would take advantage of the Northern aspect, and the architects did a great job of arriving at this concept. John and I both love mid century homes and had recently returned from a trip to Palm Springs with the family – I think the influence of this trip can be felt in the home as well.

How much mind did you pay to the layout of the home and what were some of your requirements here?
Being builders and interior designers, the layout was of course very important to us. The overall concept was around creating a home with all the living areas on one floor, and the bedrooms on another. We wanted a space that functioned really well for our family. Zoning the home into living and sleeping quarters is a really nice way to help with the flow of daily routines – for example after dinner we can take the kids upstairs, bath them and take them to bed. The location of the laundry again plays into efficiency, with four little children and having lived in many homes we have a great sense of what works for family living.
The statement stairs at the entrance to the home are incredible. How did these come about?
We really wanted the entrance to the home to feel welcoming – a place where family and friends arrive and feel immediately at home, almost like entering an inner sanctuary. We achieved this through the brick entrance that opens up in this area to reveal the whole house. If you look through the garden, you can see straight through the foyer windows across all the living areas. We love the way the entrance feels and that the mud room, garage, and powder room are concealed behind beautiful walnut full height panelling. The stairs are complete with a terrazzo tiled staircase runner which is such a fun and prominent feature that we are delighted with.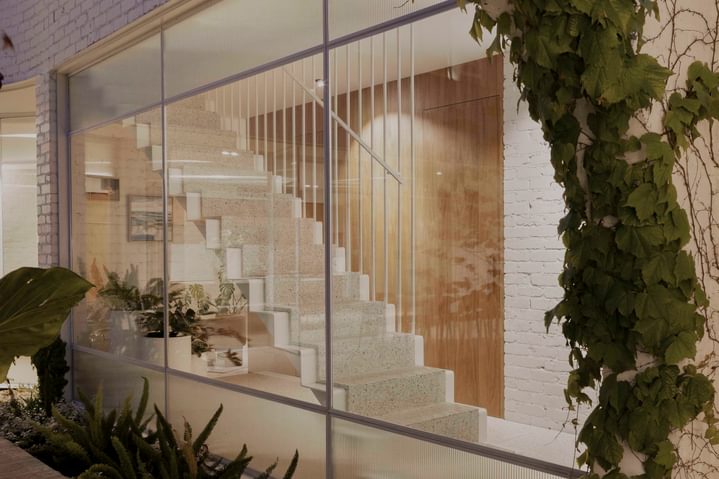 What were some other factors that were important to you in the home?
I often tell clients to start with the kitchen space first before considering the rest of the home. The reason for this is that the balance of timbers, stones and other materials are best made here. We started with the warm walnut tone to sit alongside the lovely tile base and an almost indestructible benchtop.
I also must give a shoutout to the family / media room at the back of the house. With so many children, it was essential we create a space of their own that they (and we) can all pile into to sit and play. The media room has a massive sliding door and a custom couch that can sit 13, perfect for family movie nights.
If I am truly honest, my space is the office and I love my office, you can remain connected to the family and separate all at once – it was a game changer during shut downs. I think the key is the aspect looking through the round window into a garden which offers up a new delight in every season!
With so many children it was also important to get the outside space right. Tell us how you did that?
An oasis is the perfect word to describe the garden. Thanks to its being hidden down a driveway, you would almost never know the space is there, the initial concept was from an incredible designer Plume Studio, but we wanted a garden that was is quiet and lush and truly a little escape from our often-chaotic life. It was in the building of this space that I decided I wanted to learn more about landscape, design and plants as I saw it as a complementary skill to building and so I decided to take on some study at Melbourne University's Burnley Campus to learn more about the field. Seeing the garden change and grow, live and breathe through the seasons has been a wonderful experience. The natural greenery alongside unexpected hard-scaping elements like the round porthole entrance makes the garden a real little wonderland!
What are three words you would use to describe the home?

Inspiring, welcoming, calm.
James St has been described as your "forever" home. Now that you have decided to sell, we can't help but ask – what next?!
Well, we actually never planned to sell – this was to be the forever home, however in the time between planning and building we were gifted with our youngest child and an opportunity came up to build a family home nearer the school that will have a bedroom for everyone. I am actually torn with the decision to sell as I so love this home and space. It is so unique and is a wonderful solution to being in amongst the action of High St and completely hidden away in our own world, but I know we will be able to create another home, different but equally beautiful.
Read more about the build here.
https://buildhercollective.com.au/
Instagram @buildhercollective