FEATURED
Spotlight on Port Phillip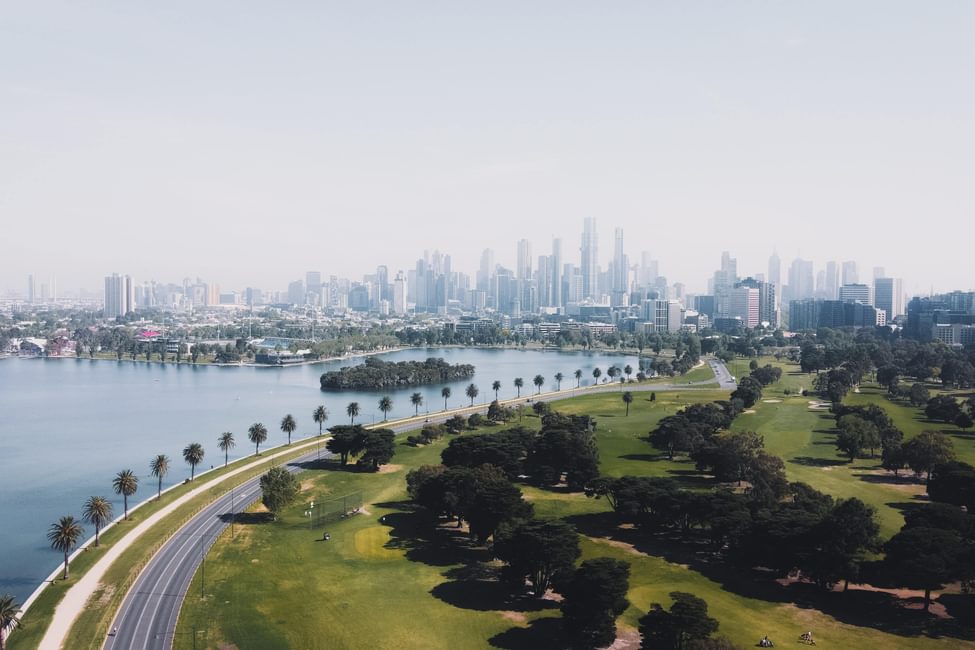 Chic bars, brunch spots and world-recognised restaurants sit alongside grand, history-filled buildings in Port Phillip.
In parts elegant, think the tree-lined streets in Albert Park, in others a little headier, think around St Kilda's Fitzroy and Acland Streets. The streets of Port Phillip are home to a stylish set of locals and trendy boutiques and cafés. St Kilda is a mecca for visitors to the country and the area with its iconic attractions and world-class restaurants, while South Melbourne boasts a variety of beautiful homewares shops and restaurants mere minutes from the CBD. Port Melbourne offers everything from cult cafés to beautiful walking tracks and Albert Park features gorgeous homewares stores, cafes, and restaurants set amongst a coveted and community-minded village. Albert Park boasts a variety of beautiful homewares shops and restaurants set amongst a coveted and community-minded village.
Every year millions of people enjoy Port Phillip's vast coastline, world-class swimming beach and coastal parks. An entirely different perspective however is available to those who explore Port Phillip by night. Visitors and residents enjoy the bustling nightlife and dining scene along Acland Street in St Kilda and Bridport St in Albert Park which are among Melbourne's most fashionable streets filled with world class cafés, restaurants and shops. A short distance from the city, Port Phillip's prime location makes it an incredibly popular place to live and play.

EAT
Fat Albert
In the heart of Albert Park on a residential corner sits Fat Albert. Awash with tones of peachy pastel pink, Fat Albert serves up easy café fare and Industry Beans coffee.
382 Montague St, Albert Park
@fatalbertcafe

Bread Club Albert Park
Recently opened by French bakers Tim and Brice, the Albert Park Bread Club is the duos' second post after they opened the North Melbourne outlet just before COVID hit in 2020. The light and bright space serves up flaky pastries, family-sized sourdough loaves, pies with rotating fillings and $10 Simple Sandwiches to a hefty crowd first thing each morning.
65 Cardigan Place, Albert Park
@breadclubofficial
Di Stasio
Warm and inviting, Di Stasio has an elegance that is appealing for all ages. Simple and intimate, there's a reason Di Stasio has long been considered an institution. Di Stasio is steeped in history and is a favourite for lovers of Italian.
31 Fitzroy St, St Kilda
@bardistasio
Park Street Pasta & Wine
The menu at Park Street Pasta & Wine changes fortnightly with, you guessed it, a particular penchant for pasta. All the pasta is made inhouse every day using Daylesford's Real Eggs and flour from Laucke Flour Mills in South Australia. The building housing the restaurant dates back to the 1880s.
268 Park St, South Melbourne
@parkstreetpastawine
SHOP
Filly's Stable
Filly's Stable is marked by a stable-like, timberlined entry leading into a clean, brilliant white interior. Inside you'll find an eclectic mix of women's fashion and accessories from both local and international designers.
130 Bridport St, Albert Park
@fillysstable

Made in Japan South Melbourne
There's a lot to look at in Made in Japan. The store is stocked full of beautiful imported pieces. The business specialises in ceramics from Tajimi, a small town in the Gifu Prefecture that has been producing pottery for more than 1000 years. Come for inky-black dinner plates, metallic-look platters, eggshell-blue bowls, complete tea sets glazed with intricate blossoms, lopsided vessels, paperclips and lots, lots more.
1 – 7 Wynyard St, South Melbourne
@madeinjapantableware
DRINK
Albert Park Hotel
Dating back to 1883, Albert Park Hotel is a much-loved institution for discerning locals. Inside, the centrepiece of the space is a four-storey glass atrium that floods the once dim pub with natural light. Further in, the atrium lords over the main bar, which has a fig tree growing at one end. The menu is broadly Chinese and the cocktail menu takes inspiration from Chinese flavours.
85 Dundas Place, Albert Park
@thealbertpark
The Espy
Since 1878, this grand seaside hotel has been a centrepiece of St Kilda, and a live music icon. It was revamped and revitalised in December 2018 and the redevelopment was immense. The Espy has 12 bars, three stages and two restaurants across the six levels of the 140-year-old building.
11 The Esplanade, St Kilda
@hotelesplanadestkilda
Mr Brownie
This four-storey pub in South Melbourne has a bar on every level. In the basement is an intimate, red-lit cocktail bar. On ground, there is a bottle shop with counter seating. Level one is the dining room and the open-air rooftop is home to a tiki-style bar with city views.
343 Clarendon St, South Melbourne
@mr_brownierooftop
PLAY
Albert Park Lake
Albert Park Lake provides opportunities for a range of activities including sailing, canoeing, kayaking, rowing, fishing and birdwatching. But the activity that draws most people to the idyllic setting is walking its 4.8km flat loop.
South Melbourne Market
Established in 1867, South Melbourne Market is the quintessential village market. One of Melbourne's most popular with stalls selling fresh produce, clothing, hardware and confectionary, South Melbourne Market is a mainstay of the area.
322 – 326 Coventry St, South Melbourne
@southmelbournemarket