FEATURED
Our guide to the best homewares brands of the moment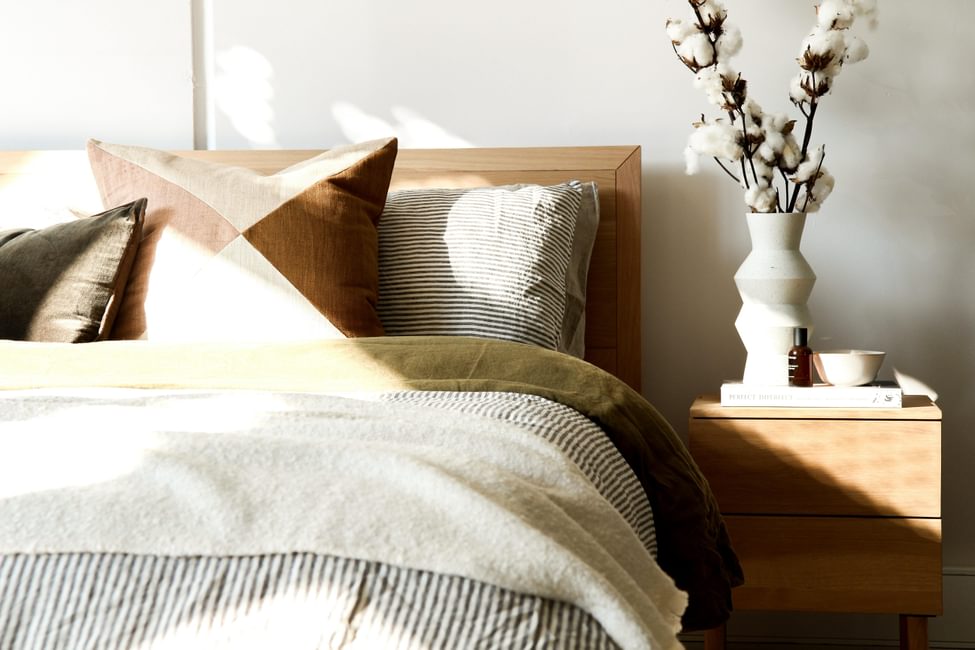 With interiors on everyone's minds, we're more aware than ever of investing in pieces that make us want to spend more time at home. Homewares are essential in making your house a home and curating a space that is unique to you. For some, it's all about the small details that make a piece of furniture special, while others like to make a statement with one standout piece. Whichever way you like to style your home, in this article we're put together a running list of our favourite homewares brands.
Cultiver
Sydney-based linen house Cultiver fosters a love of the effortless fabric with bedding, homewares and a small collection of apparel. Cultiver specialises in luxurious linen that is comfortable for any season.
cultiver.com.au
Maker & Son
Featured in none other than Troye Sivan's incredible Melbourne home is a Maker & Son feather and down filled sofa. These sofas are the height of comfort thanks to the family-owned business that carries a wealth of generational knowledge of design and aesthetics.
makerandson.com.au
Sarah Ellison Studio
Interior stylist Sarah Ellison launched her eponymous mfurniture and home accessories label in 2017. Since then, her pieces have garnered the approval of the global style set. The ever-popular Huggy Chair and Gabriella Mirror ares ome of her most recognisable pieces.
sarahellison.com.au
Mud
Since 1994, Mud has earned a reputation for specialising in beautiful hand-finished ceramics. Mud's products are locally handmade in Sydney from clay sourced in France, with a new collection of colours released each season across mixing bowls, ceramic cups, mugs, kitchen sets, serving ware and more.
mudaustralia.com
Jardan
For an expansive offering of furnishing, lighting and homewares that carry effortless, ease and style, visit Jardan. This beloved Australian furniture brand makes all of its furniture in Melbourne. Come in for furniture and homewares that are just as unique as they are timeless.
jardan.com.au
Tamsin Johnson
Much-loved interior designer Tamsin Johnson not only owns her own interior design practice, but she also has a homewares showroom in Paddington, Sydney showcasing unique and covetable vintage furnishings for sale by appointment.
tamsinjohnson.com
Made in Japan
Specialising in high quality, Japanese-made ceramics, shipped directly from familyrun businesses in Japan is Made in Japan. Snap up the hand-made, one-of-a-kind and restaurant quality ceramics in every colour, print and glaze at their Mornington outlet store or at a number of Melbourne markets.
mij.com.au
Makers' Mrkt
Makers' Mrkt was founded by Kelly Thompson, who was inspired by the creatives she knows and a passion for supporting freelancers, craftspeople and small business, as well as a desire to do something for her community. Makers Mrktis an online store offering pieces for your interior, wardrobe and lifestyle all with anemphasis on small-run, hand-made and sustainably produced pieces. By purchasing a Makers' Mrkt item, you are supporting small creative businesses from around the world.
makersmrkt.com
Alex and Trahanas
Lifestyle store and design studio Alex and Trahanas celebrates the founders' love for all things summer on the Mediterranean. The pairs travels to Europe and beyond take them to source the finest fabrics, materials and production methods that then go into their pieces. You will find ceramics, serving ware, apparel and objet d'art.
alexandtrahanas.com


Looking for more interior and design inspiration? Follow us on social: @jelliscraig
To keep up to date on the latest property news, and hear about property in your area, sign up here.