FEATURED
A Fitzroy Renovation with Flack Studio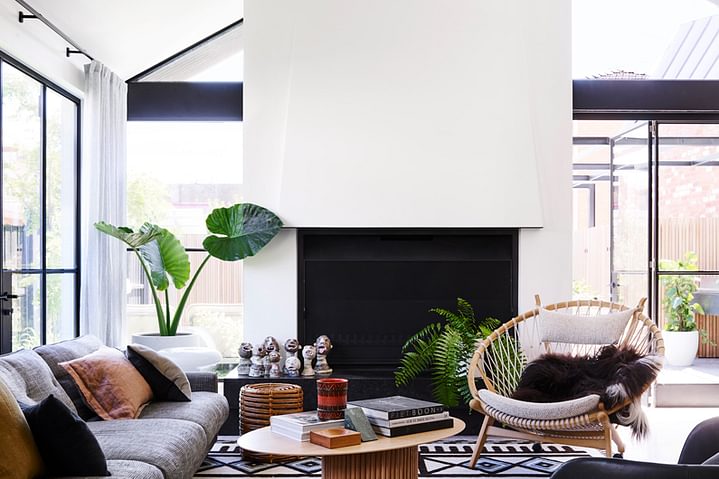 Jellis Craig Fitzroy Agent and Auctioneer, Bev Adam and her partner Craig recently employed Flack Studio to renovate their Fitzroy home. They chose Flack Studios for their ability to deliver supremely elegant and confident interiors, with a touch of daring. The brief was a complete re-design of the space, with a light, bright and effortless feel for entertaining family and friends. We think you'll agree that Flack Studio nailed it.
Tell us about your first visit to the site. What were some immediate structural or design aspects that stood out that would need to be addressed in the design?
We were delighted to be approached by Bev and Craig to work on this project. The home is a double-fronted Victorian cottage in the inner-city precinct of Fitzroy that needed to be rebuilt back to some of its former glory after a previous owner had added a 1950s intervention to the property. From here, we formed our direction and sensibility.
Did the client have a tight brief or did the brief evolve as the project progressed?
Our clients would be living in the home together and we were tasked with making the home light, bright and effortless, all while being the perfect space for a couple that like entertaining family and friends. Our clients wanted a complete re-design of the space, and we were all on the same page of ensuring we made use of the north-facing element of the property with its beautifully sized garden. A heavenly brief.

What were some of the non-negotiables from the client?
Aside from retaining lightness and brightness throughout, our clients wanted to ensure the main bathroom was large and roomy, the walk in robe had lots of natural light and there were plenty of views to the garden from inside the
home.
How did you work within the existing heritage nature of the home?
We wanted to retain the Victorian feeling to the front façade and front rooms however with contemporary nods throughout these areas to ultimately blend old and new. By levelling the four interior tiers of the sloping site, we created a single, expansive floor plate. This means that sightlines are re-established through the two-original street-front rooms to the family and entertaining areas and to the garden beyond.
Did you face any challenges with this site?
Thankfully, there were no particular challenges with this project. What was so lovely about this project was creating a space that is comfortable and not over scaled on a smaller inner-city block. The clients didn't want to compromise the garden space and cram unnecessary rooms within the space for 're-sale value', which was a lovely and welcome change to some project briefs. It was a rewarding pursuit to create a space for our clients to enjoy their lives and the way they live on a daily basis.
Tell us about your approach to colour.
We always seek warmth, detail and atmosphere with materiality. For us it's about the depth of colour, the emotion and narrative of a space. We are more focused on the longevity and play of materiality which makes it a lovely little dance between finishes that create the unexpected.
What about the fixtures chosen, how did you go about this?
We opted for robust materials with this home, think steel, brass and concrete, offset by plushness in 'play' zones such as the walk-in closet and the glamorous wet bar. The exuberance was reined-in for the kitchen and family areas.
What is one thing that you love about this transformation?
There are so many elements we love about this home – if I had to pick one it would be the over scaled fireplace that anchors the main living space – it is almost a beacon within the room. In summertime you can sit on the stone hearth, whilst in the winter the fireplace makes the room atmospheric and cosy. I also adore how this home, with its ochre façade, sits like an oasis in the heart of Fitzroy.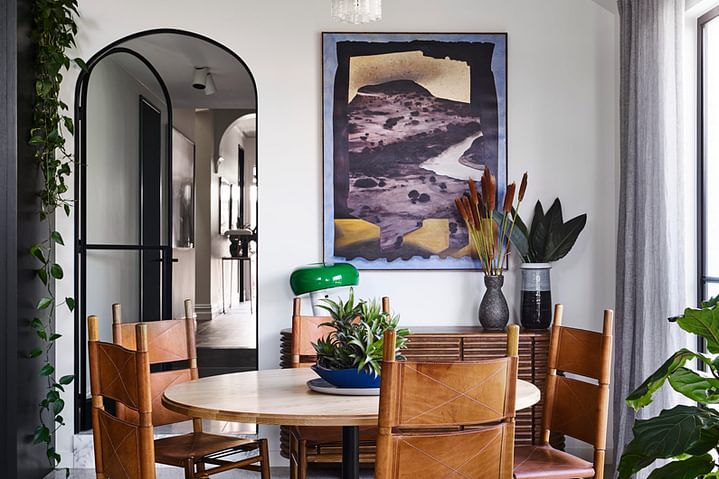 David Flack's List of Loves
Ceramics - Glenn Barkley
Furniture - Daniel Poole @danielpoolestudio
Artist - Karen Black @karenblackstudio
Flowers - Flowers Vasette @flowersvasette

Lighting - Nicholas & Alistair @nicholasandalistair
David Flack, Founder and Principal of Flack Studio, is an Australian designer renowned for multi-faceted, experiential residential hospitality, commercial and retail environments. Flack Studio is a multi-disciplinary practice of designers and architects committed to delivering supremely elegant contemporary interiors.