FEATURED
A Country House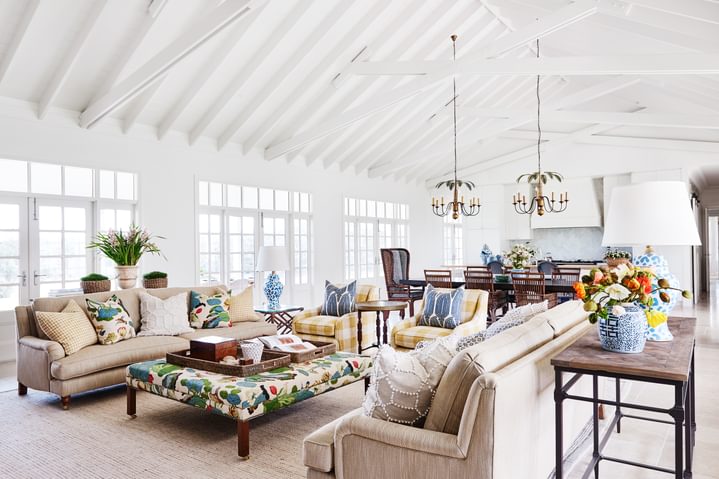 Amy Spargo, Designer and Founder of Maine House Interiors recently renovated a beautiful country home in Macedon in regional Victoria.
Amy's classic, timeless interiors and talent for mixing old with new are on display in the design of this home. Here, we go behind the scenes with Amy to find out more about how the surrounding landscape inspired her, and what it was like designing and renovating for one of her closest friends.
Tell us a little about the client brief for the home.
The brief was to design an Australian farm house, one that sat comfortably in the surroundings of beautiful Macedon. A house that would suit their family of 3 young boys and their new rural lifestyle, whilst growing with them over time. They also wanted it to be fresh, fun and not too serious.
Was there lots of input from the client or did you have creative freedom?
The clients are dear friends of mine, so there were many conversations about the design, both professionally and over a wine or two. They had spent years searching for the perfect piece of land, before settling on 'The Overflow' in Macedon. When we first visited the land together it was clear that we had the same vision, so when it came to designing the house they trusted me to bring the entire design together, knowing we were on exactly the same page.
Where do you start with a project such as this?
Always the landscape. I take reference from the surroundings, pulling in colours, textures and materials that ground a house to its environment. The client also fell in love with a fabric I have in my design studio, "Nympheus" by GP&J Baker, which became the hero fabric for the main living spaces.
How did the surrounding landscape inspire the design?
The house is located at the edge of a nature reserve, surrounded by gumtrees and rock formations, light sandy soil and magnificent views to Hanging Rock. The surrounding greens are referenced throughout the home, from the grand front door which is painted Porters Paint Bayleaf, to the greens in the guest bedroom fabrics. The sandy soil was referenced through the Egyptian Limestone pavers laid throughout the house and on the surrounding verandah, giving the house many natural leads into the garden. I designed a large kitchen island bench in a natural stained timber, bringing warmth and texture as seen in the landscape. Pairs of French doors in the open plan dining, kitchen and living room were designed to frame the views.
Did the client have any specific requirements that you needed to consider for the design?
Yes, it's an off grid home, the first I have designed. I had to consider the appliances that I was specifying and the materials, knowing that the house had to be heated and cooled all year round from the use of solar power.
Were there any challenges along the way and how did you overcome them?
Unbelievably for a project of this scale, whichis located 2.5 hours away on the other side of town from me, we didn't have any challenges. We had an amazing team of trades, a wonderful builder, John from Mt Gisborne Homes, a trusting client and a very well planned schedule, which made for a smooth project. The client and I always put our friendship first and had complete trust in each other, which allowed us to work through any potential issues together.
Which space in the home is the clients favourite and why?
Their kitchen, they spend hours at their kitchen island bench with their 3 boys, family and friends.
What are your top 3 design tips for achieving a stylish yet practical family home?
1. Use outdoor fabrics on indoor pieces. They're easy to clean, don't fade and are durable - perfect for a growing family.
2. A good sized rug in a living room, it pulls a collection of furniture together.
3. A hero fabric, like a large scale print that you can then reference from for other upholstered pieces throughout the home.
Amy's List of Loves
Furniture
Some of my favourite places to source antiques are Miguel Meirelles, Graham Geddes and The Drill Hall Emporium in Tasmania.
Fabric
A classic combination of mine is to start with a large scale print and pair it back with a simple plaid or stripe.
Lighting
Bragg & Co for their beautiful lamps completed with a bespoke pleated shade.
Artist
I love the work of Australian artists Anna Fitzpatrick, Paul Ryan and Kiata Mason.
Ceramics
Julian Ronchi Garden Design and Nursery. I particularly love their 'Kew' pots.


Founded by Amy Spargo, Maine House interiors is a full service Interior Design firm offering bespoke designs for clients across Australia. Amy is known for creating classic, timeless interiors that reflect her client's lifestyle. A talent for mixing old with new and always including an element of surprise in the spaces she creates through pattern, colour and one-off found objects.